thailand Cost Breakdown - as of 1 APR 2017
Airfare: Narita to/from Bangkok
Airfare: DFW to/from Bangkok via JAL

$1,154

Ground Trans (Van) - approx

Narita/Fussa to/from Trans

Lodging (10nights)

Food, Drink

(11 days)

Greens Fees, Caddy, Cart, Tip
Green Fees, Caddy, Cart, and Tip (in Baht)
Monday

Greenwood

900

350

600

400

2,250

Tuesday

Laem Chabang

2,500

500

3,000

Wednesday

Siam Waterside

1,750

400

750

500

3,400

Thursday

Khao Kheow

800

350

600

400

2,150

Friday

St Andrews 2000

1,000

350

600

400

2,350

Saturday

Off

Sunday

Emerald

1,450

400

1,850

Monday

Siam Plantation

1,850

400

750

500

3,500

Tuesday

Phoenix

1,600

400

2,000

Grand Total for golf:

20,500
Ball Park Cost
| | |
| --- | --- |
| From the US | $2,619 |
| From Tokyo | $1,955 |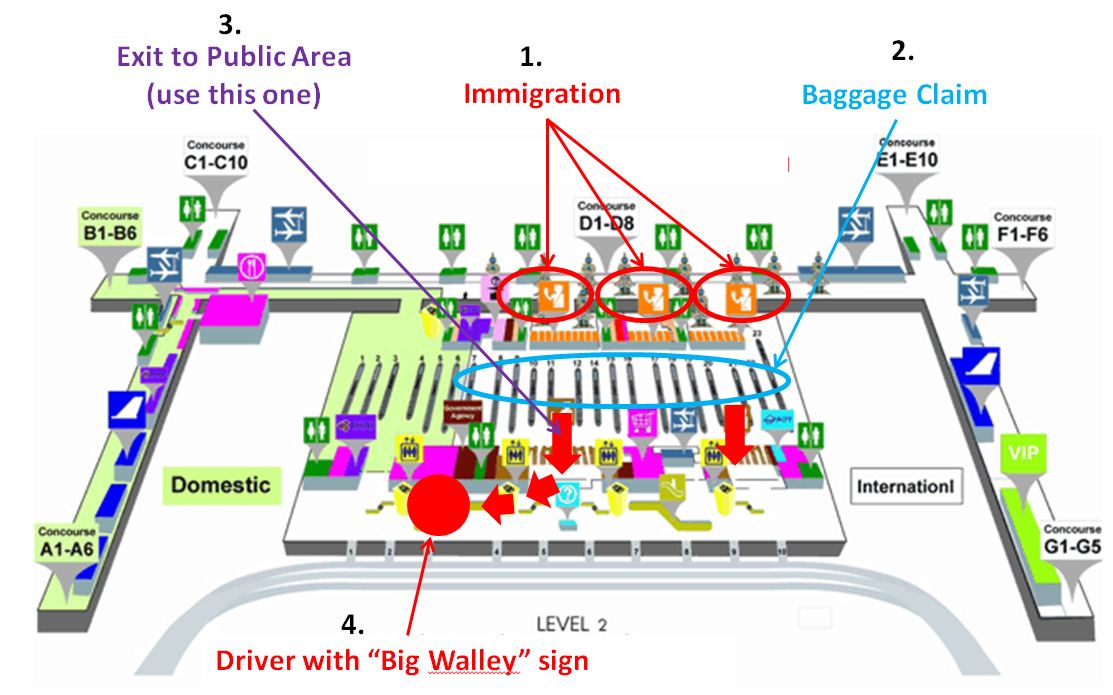 Bangkok: You can expect to do a bit of walking to get to immigration, but then it's a short (crowded) walk to the front entrance. You can exchange currency after immigration while waiting for your clubs and other baggage, and I would suggest getting at least $100 worth to cover initial eating/drinking expenses. The airport exchange rate is pretty good! Once cleared if you follow the crowd out EXIT "B" (there are 4, A thru D) then follow the crowd moving to the right where you will most probably see our driver. If you're traveling on your own, then turn left after processing and taxis are located at that end of the airport. Taxi fee into Bangkok is about 600-900 baht. It's between 1,000 and 3,000 to Pattaya. A good gathering point at the airport is after baggage claim out Exit "B" but before going outside the airport facility, near exit door #3 (there are 10 sequentially numbered rotating exits alongs the front of the airport starting with "1" on the far right as you come out with your luggage, through "10" on the far left).
Airline Alternatives
To be determined. Be sure to verify baggage allowances as some airlines are very restrictive weight-wise. Currently Delta Airlines is best with a 50lb allowance per bag. Others are 20kg or 44lbs. Taking 2 carryone bags is the key. BTW, my golf clubs in airline bag weights 38lbs. Use that as a guide.
The Wager
Several players mentioned having some kind of bet. Okay, each day the high and low scoring players will be matched for the next day...and so forth until all players are teamed. If there is a single player remaining, his score the next day will count twice. The lowest team score the next day will win $20ea.
The Rules
Special rules to keep the fun meter above zero... a player can take 1 mulligan per 9 holes from the tee box. Lift and clean is OK throughout. "Gimmies" can only be awarded if the ball is within a putter length of the hole (NO EXCEPTIONS) and you cannot give yourself a "gimmie". The caddies scorecard will be deemed official.
Transportation costs
I'll reserve vans for the week. I've added in the $20 wager and tips for the van drivers to come up with an equatable per-player cost. This year payment will be required upon arrival at Pattaya.
Philippine Cost Breakdown - as of 21 Sep 2017
Airfare: Narita to/from Clark
Airfare: DFW to/from Clark via Asiana/United (+$10 van incl)

$1,240

Airfare: DFW to/from Manila via PAL/Delta (+$60 van included from MNL to Angeles City)

$1,010

Ground Trans (Van) - approx

Lodging (9 nights)

Food, Drink

(9 days)

Greens Fees, Caddy, Cart, Tip
Green Fees, Caddy, Cart, and Tip (in Pesos)
Monday

Pradera Verde GC

2,050

500

500

500

3,550

Tuesday

Beverly Place GC

1,450

450

1,000

500

3,400

Wednesday

Clark Sun Valley GC

2,500

500

1,000

500

4,500

Thursday

Luisita GC

1,500

300

850

500

3,150

Friday

Pradera Verde GC

2,050

500

500

500

3,550

Saturday

Angeles Sports &CC

600

300

400

1,300

Sunday

Royal Garden G&CC

2,000

350

1,000

500

3,850

Monday

Clark Sun Valley GC

2,500

500

1,000

500

4,500

Grand Total for golf:

27,800
Ball Park Cost
| | |
| --- | --- |
| From the US | $2,695 |
| From Tokyo | $1,861 |
---
Philippines: Flying into and out of Clark Airport is vastly easier than Manila's NAIA...here's why. Clark is like a regional airport with few lines and a short drive to/from the hotel. Ninoy Aquino Intl Airport, on the other hand has 3 main, but very separate terminals; you need to know where you arrive and depart so ground transportation can be coordinated properly. The drive to/from the airport varies depending on traffic, but normally you should plan on 4 hours and hope you're lucky. It's worth considering staying the night prior to departure in a hotel near NAIA just to be sure you get there on time. Expect a painful immigration line and a fairly long wait at baggage claim...outside the airport is generally chaotic. But, to save a couple of hundred bucks it can all be done, it's just a bit more painful.
Here's what and how I pack for this trip. Bags (3):
Golf clubs bag. I take golf balls and everything else except a rain jacket out of the bag, leaving 14 clubs, rain jacket and golf shoes in the bag to keep it under 40lbs. Your Rodney Dangerfield bag may be a bit heavy.
Suitcase – This has clothes, toiletry kit and a few other odds and ends. Really, what do you need to play golf everyday and eat dinner at night when there is laundry service? Not much...
Carry-on bag. Everything heavy goes here, including golf balls, computer cables, etc. I take a net-book computer and put it in this bag also.
Clubs: just the basics...You won't need a golf buddy-type bag as the caddie gets what you'll need.
Clothes: Not much is needed.
Shorts – a couple pair
Slacks – at least one pair in case the mosquitoes get bad at night or your legs get sunburned. Wear these on the flight to/from because they are heavier than shorts.
Rain Gear – only a rain jacket is necessary, pants are okay. I consider an umbrella as optional equipment.
Shirts – Most courses require a collared sports shirt to play. You can buy dry-fit type shirts for about $6 ea in Thailand. You might consider going with only a couple of shirts and then buying more once there. I wouldn't recommend cotton shirts as they'll get wet with sweat.
Shoes – sandals work fine for just about everything but golf. I usually bring one pair of regular shoes and sandals.
Note: there is laundry service so you can wash everything as often as you like for a reasonable fee.
Medicine: I've never been sick in Thailand, but here's what I take…
Motrin for those bad mornings, sore muscles, etc.
Imodium
Tums
Band-aids
Sun block
Mosquito spray
Note: you can buy bottled water near the hotel. I would recommend getting several quart-sized bottles for daily golf, and a gallon sized jug to refill the smaller bottles.